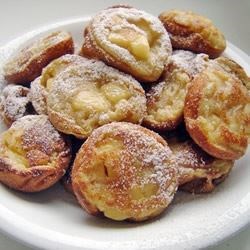 3 eggs separated
2 t. sugar
2 C. buttermilk
2 C. flour
1 tsp. baking powder
1 tsp. salt
1 tsp. soda.
Beat egg yolks and sugar until very light. Add butter milk. Then sift together flour, salt, soda and baking powder and add to mixture beat egg whites until stiff and fold into batter.
brush each cup of Aebleskiver pan with small amount of oil or shortening and fill 2/3 full with batter.
Bake until bubbly, turn carefully with fork and finish baking on other side. Serve with butter and maple syrup or apple butter.
Optional: add a thin slice of peeled apple on each ball before turning the aebleskivers. Can be served with Sodsuppe. Recipe follows.
Sodsuppe (Fruit Soup)
1/2 lb prunes
1/2 lb dried apricots
1/4 lb dried apples
2 sticks cinnamon 1 orange, thinly sliced.
Juice of 1 orange and 1 lemon or other fruit juice
1 cup sugar
4 TBSP. tapioca
Soak dried fruit and stick cinnamon overnight in enough water to cover fruit. Cook or steam slowly until fruit is soft. Add sugar and tapioca. Continue to cook slowly for a half hour.
Serve hot or cold.