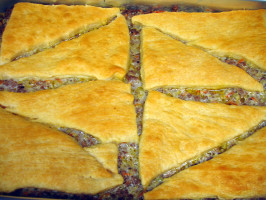 1
medium
head cabbage, shredded (about 3 cups)
1
medium
onion, chopped
1 1/2
lbs
ground beef
2

(15 ounce)

cans

cream of mushroom soup
2

(8 count)

packages

crescent rolls
1 1/2
cups
cheese, shredded
1
carrot, finely shredded
1/2
teaspoon
garlic powder
salt and pepper
Directions:
Brown the ground beef and onion together until the meat is no longer pink. Drain well.

Add the shredded cabbage and carrot; steam until they are tender.

Combine the beef and cabbage mixture, soups and seasonings together and keep warm.

Lightly spray a 9"x13" pan or casserole with cooking spray.

Take one package of the crescent rolls and lay out in the bottom of the pan. Press lightly to form a "crust" and sealing as well as you can. Press gently up the sides of the pan about 1/4" - 1/2" high.

Bake crust in a preheated 350 degree oven about 7 minutes to give it a chance to bake thoroughly.

Take the pan out and pour the hamburger & cabbage mixture over the undercooked crust.

Sprinkle with cheese.

Take the 2nd package of crescent rolls and break apart along the seams and lay on top of the pan.

Bake another 35 - 40 minutes or until the top is golden brown. (I will lift up the bottom to make sure that the bottom crust is done before removing from the oven. If you think the top is getting too brown, just top with foil until finished baking).